Campaigns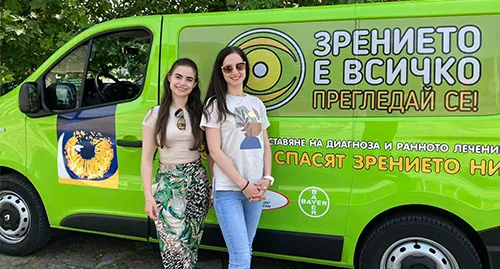 5-16 June, 2023
EYE HEALTH AWARENESS CAMPAIGN OF EYE CLINIC "LUXOR" IN 10 BULGARIAN TOWNS
Eye doctors from Eye Hospital "Luxor" did preventive examinations of over 1000 patients in Karlovo, Hisarya, Kalofer, Sopot, Rakovski, Chirpan, Peshtera, Kaloyanovo, Krichim and Saedinenie. Our main partner in the campaign was Bayer Bulgaria.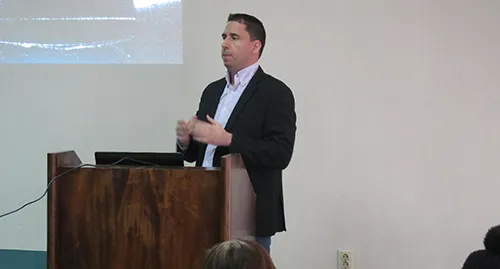 30 March, 2023
LECTURE ABOUT THE TYPES OF INTRAOCULAR LENSES IN CATARACT SURGERY FOR POG
Dr. Georgi Taskov explained to the members of "Patient Organization Glaucoma" about the appropriate types of intraocular lenses in glaucoma patients. The severity of the disease determines the proper implant for each case.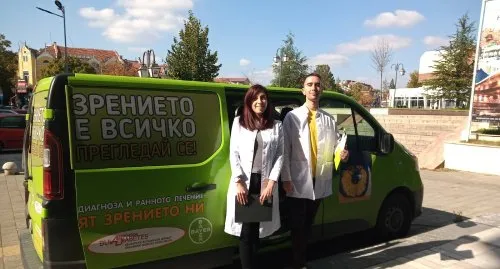 08 November, 2021
DIABETIC RETINOPATHY PREVENTIVE EYE EXAMINATIONS
Eye clinic "Luxor" together with Bulgarian Diabetes Association and Bayer Bulgaria organized over 400 preventive eye examinations in Panagyurishte, Pazardzhik, Peshtera, Stamboliyski, Asenovgrad and Smolyan.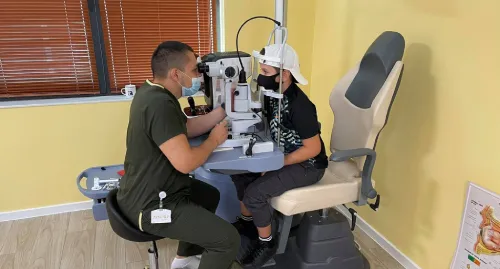 7-10 September, 2021
PREVENTIVE EYE EXAMS FOR SCHOOL-AGE CHILDREN IN EYE HOSPITAL "LUXOR"
In relation with the start of the school year eye hospital "Luxor" announced free of charge examinations for children. During the period of the campaign from 7th up to 10th September 2021 more than 100 children from Plovdiv and the region were consulted.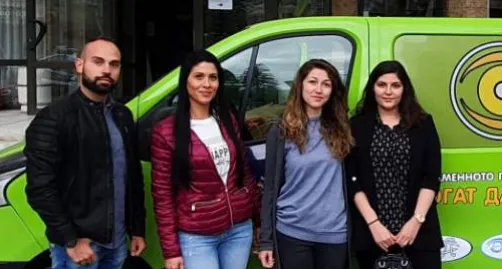 19-30 May, 2021
NATIONAL SCREENING CAMPAIGN "THE SIGHT IS EVERYTHING! HAVE YOUR EYES EXAMINED!"
19th May 2021 in Velingrad and 20th May 2021 in Smolyan ophthalmologists from Eye hospital "Luxor" examined free of charge over 200 patients among the most vulnerable groups - children and people aged 50 and older.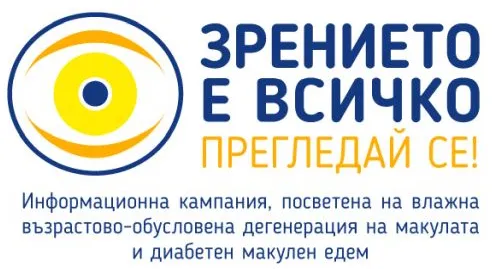 26 June, 2020
ADVANCED MACULAR DEGENARATION PREVENTIVE EYE EXAMINATIONS
Eye clinic "Luxor took part in the campaign "The sight is everything! Have your eyes examined!", which was organized by Patient Portal and Bayer Bulgaria. The eye examinations are free of charge and they are part of a prophylaxix information programme, which started last year.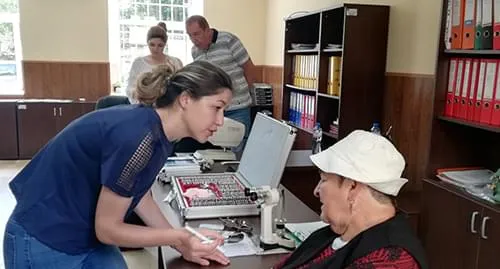 7 July, 2019
MORE THAN 100 PREVENTIVE EYE EXAMINATIONS IN KOPRIVSHTITZA
5th and 6th July 2019 together with Koprivshtitza municipality Eye clinic "Luxor" organized preventive eye examinations campaign. The eye specialists examined more than 100 people from Koprivshtitza.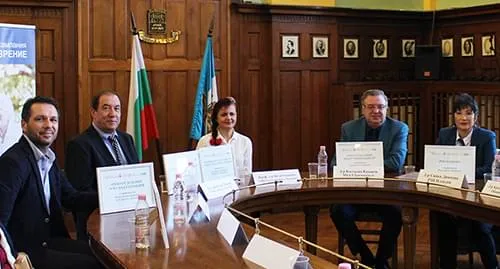 4 February, 2017
PREVENTIVE EXAMINATIONS, NATIONAL CAMPAIGNS "RIGHT TO SIGHTS"
Campaign together with Alcon Corporation. More than 300 people from Plovdiv and the region at age over 55 years underwent a free cataract and glaucoma screening within only a week. Such are the results from the National campaign "Right to Sights", reported today. Dr Rada Boyadzhieva from Plovdiv Municipality welcomed the initiative, thanked the medical experts participating in it, and stated that the campaign can always count on the partnership of the Municipality.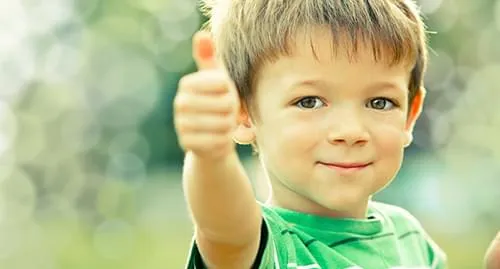 4 February, 2017
PREVENTIVE EYE EXAMS OF 100 CHILDREN AGED BETWEEN 4 AND 10 YEARS
On 8 and 9 April, Eye Center Luxor offered free-of-charge preventive eye exams for children at age between 4 and 10 years, in Plovdiv.
Events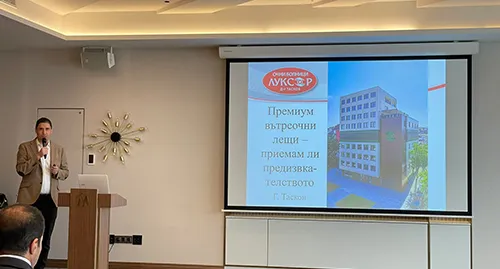 8 April, 2023
OVERVIEW OF ADVANCED INTRAOCULAR LENSES IN SOFIA
Dr. Georgi Taskov led and dr. Dimitar Taskov moderated informative event, which was orgnized by Oftalabs company. Dr. Todor Taskov and dr. Georgi Taskov presented to their fellow colleges the modern designs of intraocular lenses.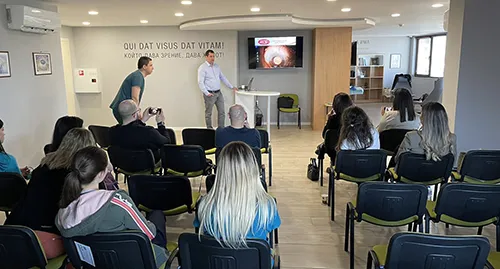 23-24 February 2023
EDUCATIONAL COURSE FOR BULGARIAN OPHTHALMOLOGY RESIDENTS IN LUXOR
Together with Bayer Bulgaria an Eyelab was organized. The trainees listened to useful theoretical presentations, after which they practiced injecting pig eyes with the medicine Eylea.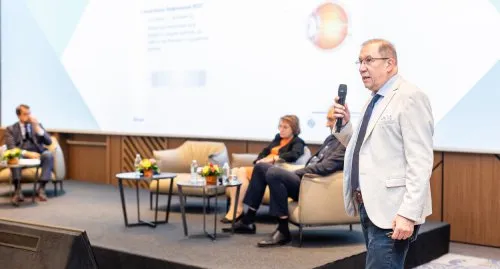 16 April, 2022
NEW GENERATION INTRAOCULAR LENS IN BULGARIA
Dr. Dimitar Taskov presents to his fellow colleges-ophthalmologists a new generation intraocular lens for pressbyopia correction and cataract treatment.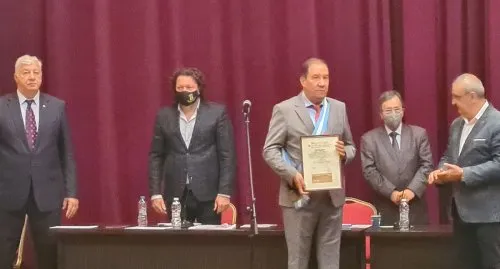 14 September, 2021
DR. DIMITAR TASKOV WAS BESTOWED WITH HONORARY CITIZENSHIP OF PLOVDIV
On Krastovden holiday Dr. Dimitar Taskov was officially bestowed with honorary citizenship of Plovdiv. Dr. Dimitar Taskov was awarded in relation with his immense contribution in the field of healthcare.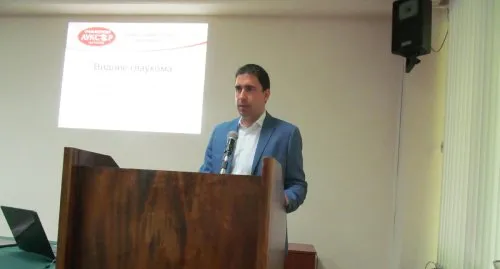 17 June, 2021
"PATIENT ORGANIZATION GLAUCOMA" ASSOCIATION INVITED DR. GEORGI TASKOV AS A SPEAKER
Dr. Georgi Taskov presented an in-depth analysis of the topic "How to keep our eyes healthy" in Plovdiv as per initiative of "Patient Organization Glaucoma" association. The event was highly informative and aimed eye disease prophylaxis.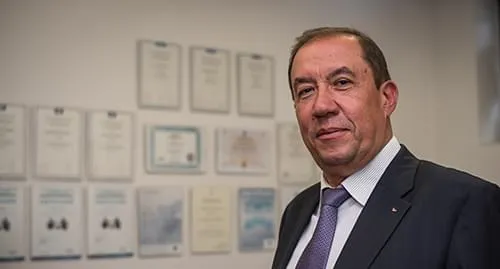 3 November, 2018
THE BASA BOARD OF DIRECTORS AWARDED AN HONORARY TITLE TO DR. DIMITAR TASKOV
The Board of Directors of BASA (Bulgarian Academy of Sciences and Arts), after addressing an official invitation, decided to admit dr. Dimitar Taskov in the Academy team and award him with the honorary title "Member observer" for distinguished merits in the field of medicine.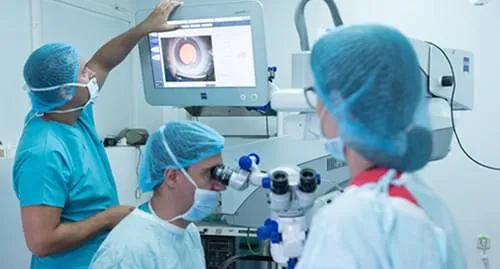 27 September, 2017
REVOLUTIONARY METHOD OF ASTIGMATISM TREATMENT APPLIED FOR A FIRST TIME IN PLOVDIV
A revolutionary method named "4 in 1", developed by an American company, recovers the clear sight of patients with astigmatism, who also have farsightedness, nearsightedness and cataract. The method uses a "smart" artificial lens - innereye implant, delivered specifically for the well-known ophthalmologist dr. Dimitar Taskov.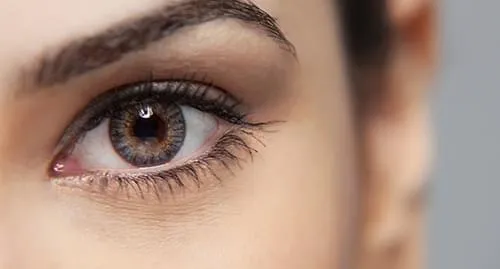 18 April, 2017
DR TASKOV HAS IMPLANTED A HIGH-TECH IMPLANT – A NEW ALTERNATIVE IN FIGHTING GLAUCOMA
The implant is 6 mm long collagen tube with the thickness of a hair. When placed at the correct location, there is a permanent decrease of the intraocular pressure, and the need of constant take of antiglaucoma drugs is eliminated. The Xen implant is inserted in the eye of the patient through two micro-openings, as the procedure is seamless, with minimum traumatism and very fast – about 5-10 min. Our team was happy to observe that the implant started working immediately after it was placed, and the results in the first postoperative day were better than expected.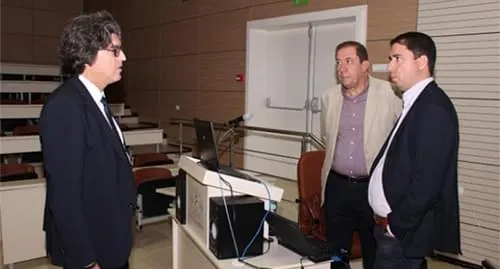 7 April, 2017
TOP OPHTHALMOLOGISTS FROM PLOVDIV AND STARA ZAGORA SHARE THEIR EXPERTISE WITH YOUNG COLLEAGUES
The Department of Ophthalmology of Medical University – Plovdiv became a part of national project for increasing the qualification of young doctors. During the weekend, Ophthalmology trainees from Plovdiv and Stara Zagora participated in a training, which took place at the Auditorium Complex of MU-Plovdiv.
News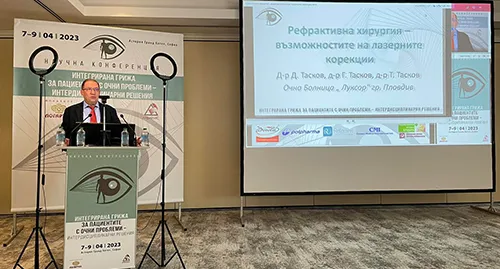 8 April, 2023
REFRACTIVE SURGERY - THE LASER VISION CORRECTION POSSIBILITIES
At the joint meeting of JPs and ophthalmologists "Integrated Care for Patients with Eye Disorders" dr. Dimitar Taskov presented the laser vision correction possibilities as well as other options for a life without glasses.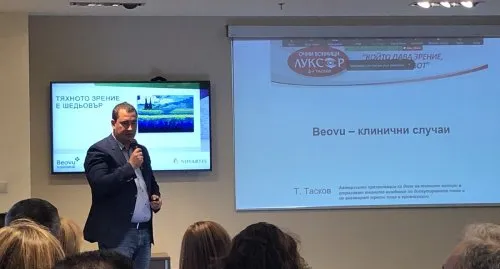 12 May, 2022
NEW DRUG FOR MACULAR DEGENERATION TREATMENT
Dr. Todor Taskov presents to his fellow colleges-ophthalmologists the data of Eye clinic "Luxor" in wet advanced macular degeneration treatment with a new drug .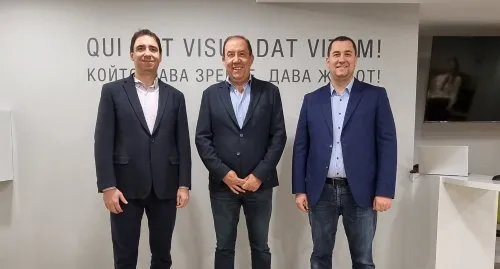 10 December, 2021
ADVANCES IN OPHTHALMOLOGY DO NOT STOP
Dr. Georgi Taskov speaks out for Capital Health about the news in the field of the laser vision correction, the advanced technology designs of intraocular lenses and the eye medications.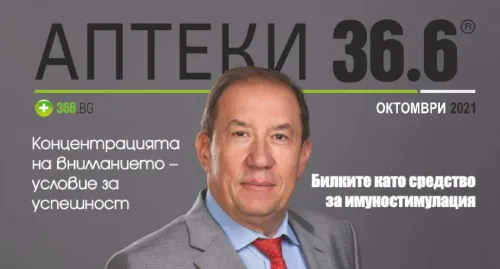 1 October, 2021
DR. DIMITAR TASKOV GIVES AN INTERVIEW FOR THE MONTHLY MAGAZINE OF PHARMACIES 36.6
We have always practiced ophthalmology with the aim of implementing the latest innovations" emphasizes Dr. Dimitar Taskov for the monthly magazine of pharmacies 36.6.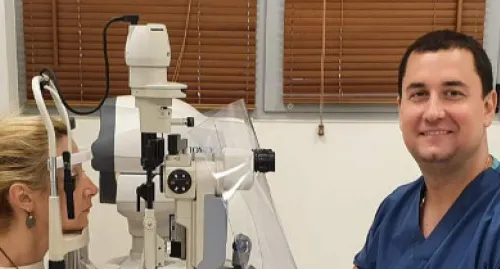 6 July, 2019
INTERVIEW WITH DR. TODOR TASKOV ABOUT AGE-RELATED CATARACT
Dr. Todor Taskov speaks out about the possible reasons for age-related cataract formation - the interview was broadcasted on Bulgarian National Radio. The cataract is a socially important disease - about half of the population between 60 and 70 is affected.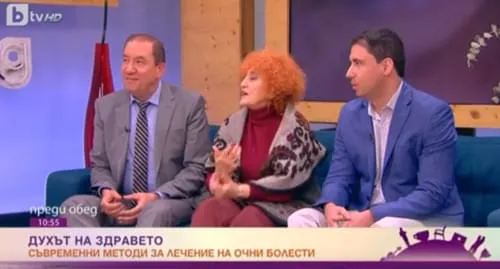 7 March, 2019
THE HEALTH SPIRIT BTV SHOW WITH DR. DIMITAR TASKOV AND DR. GEORGI TASKOV
Dr. Dimitar Taskov and dr. Georgi Taskov explain about the vision correction possibilities and spectacle independence life. Actress Latinka Petrova shares her experience after multifocal intraocular lenses implantation.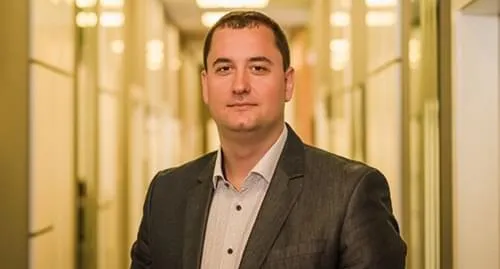 15 July, 2018
TRAFFICNEWS: LASER VISION CORRECTION
Dr. Todor Taskov speaks out about laser vision correction procedures for Trafficnews. The advantages of these procedures are obvious to him - he himself underwent a laser vision correction 4 years ago.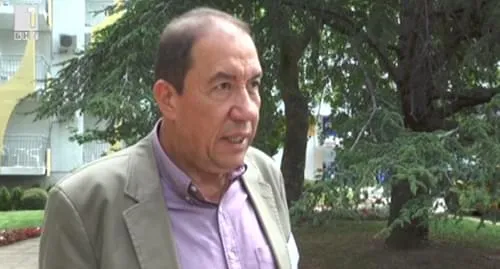 28 May, 2017
NATIONAL MEETING OF FOUNDATION "MEDIA, SOCIETY, FAMILY, TRADITIONS"
Dr Dimitar Taskov took part in the national meeting of foundation "Media, Society, Family, Traditions", organized at Albena Resort. The meeting was attended by respected medical specialists and journalists, and this-year's theme was "Life and Healthcare – How?", and "The style of the dialogue or the tradition – rats in pack." For the 16th time MOST Foundation gives the opportunity for a dialogue on the new problems, means and methods in medicine. At the meeting Dr Dimitar Taskov presented the new technologies in the eye surgery, namely the new implant Xen Gel Stent – a new high-tech and safe alternative in the glaucoma treatment.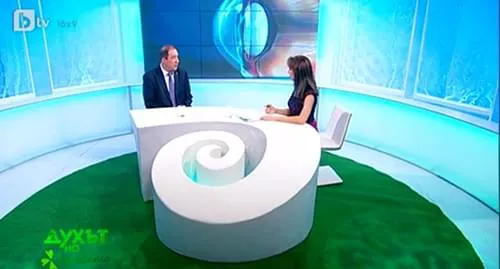 16 March, 2014
DR DIMITAR TASKOV IN "THE SPIRIT OF HEALTH" ON BTV
Topic of the show: The contemporary treatment and diagnostics of eye diseases with focus on diagnostics and treatment of cataract.